Report examines insurance mergers and acquisitions
[ad_1]

| Region | First half 2022 | Second half 2022 | 2022 | 2021 |
| --- | --- | --- | --- | --- |
| Americas | 132 | 104 | 236 | 224 |
| Europe | 67 | 60 | 127 | 125 |
| APAC | 27 | 33 | 60 | 42 |
| MENA | 16 | 8 | 24 | 17 |
| Global | 242 | 207 | 449 | 418 |
As shown above, all regions posted an increase from the corresponding full-year figures in 2021, while only APAC had a higher count in the second half of 2022 compared to the numbers in the first half of the year.
Meanwhile, it was highlighted that the 449 total was the highest since 2012's 444. In 2009, the number of completed insurance M&A transactions around the world was 573.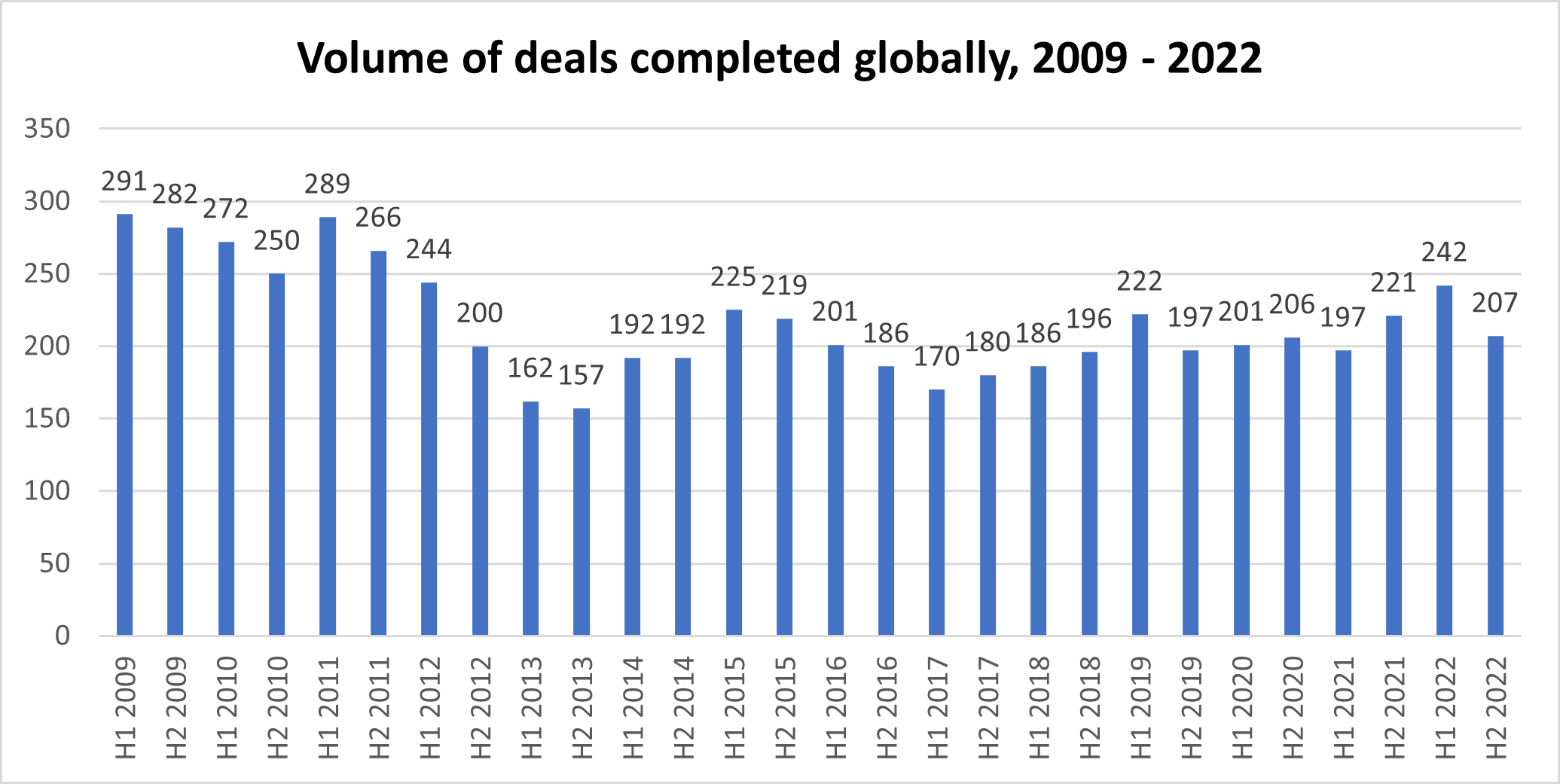 Commenting, Clyde & Co's corporate & advisory group chair Eva-Maria Barbosa said in an emailed release: "Despite the return of inflation, and measures from central banks to restrict liquidity, deals that were put on hold during the pandemic continued to come to market in 2022, maintaining the upswing in deal-making that began the previous year.
"However, looking ahead, underlying trends point to mixed investor sentiment. Deal-makers in the Americas and Europe are displaying a heightened sense of caution as they switch to wait-and-see mode in the face of market uncertainty, which will likely result in a lag in overall transaction volume.
"In contrast, investors in Asia-Pacific were generally slower to regain confidence post-pandemic, but have put that reticence behind them with a consistent and increasing trend of rising deal numbers. The re-opening of China's borders following lockdown restrictions will only serve to bolster confidence in the region further."
Meanwhile, of the more than 400 transactions last year, 19 were valued in excess of US$1 billion. These so-called "mega-deals," while fewer in 2022 than in the previous year (25), are expected to make a comeback in 2023, according to Clyde & Co, whose report features a section on uncertainty breeding opportunity.
It was noted that insurers who made strategic investment reallocations last year are now in a good position to re-deploy capital for acquisitions when the time is right.
"There remains plenty of capital to be deployed and likely no shortage of M&A targets," asserted Barbosa. "As investor sentiment improves, ambitious insurers, particularly at the top end of the market – as well as private equity houses – will move to seize these opportunities."
[ad_2]